3.4.18
Mr. Russell Dalton starts as Chief Operations Officer for DoWMAT
Russell, formally the Business Manager of Pershore High School is now a full-time member of our DoWMAT Central Team. He joins CEO Claire Davies and Academy Support officer Claire Roberts at the DoWMAT office in the Old Palace, Worcester.
Russell will looking after the Trust finances and operations and can be contacted by the following email address;
Russell.dalton@dowmat.education
1.2.18
St. Oswalds Primary School joins DoWMAT
We are very pleased to welcome St. Oswald's in Kidderminster into our DoWMAT family. St. Oswald's is the 10th school to join our team.
St Oswald's CE Primary School and Nursery opened in September 2007 (having previously been St Oswald's First School), and caters for children, aged 3-ll years of age.
10.1.18
School Business Managers' Day
A great day for everyone to share ideas and ensure our finance systems are robust across all our academies. Thank you to St. Barnabas CE First and Middle for hosting - and for Chris Dryer from Services 4Schools for leading the session.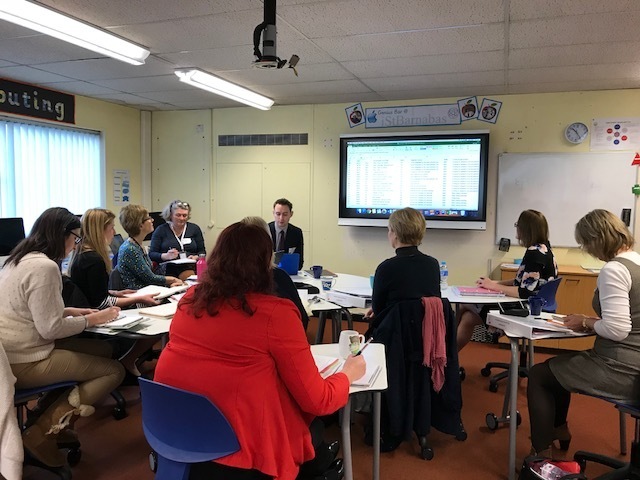 8.1.18
DoWMAT...pleased to announce...
Mr. Russell Dalton will soon be joining the DoWMAT Central Team as our Director of Finance and Operations. This is a key appointment for us and we are exceptionally pleased to be welcoming Russell onto our team.
1.1.18
Welcome to Mrs Chatterton and Miss Rushton - Acting Headteachers for the Pinvin Federation of Schools
The Federation of Pinvin C of E First School and St Nicholas C of E Middle School was formed in 2014 and since then the Federation has grown with both schools attaining a "Good" Ofsted rating in the last academic year. In September 2016, the Federation started a new collaboration with Himbleton CE First School providing leadership support to the school with the aim of establishing best practice across all schools.
However, having worked hard to set this all up, Mr Best, the Executive Headteacher over all three schools, has now moved on to become a Teaching and Learning Advisor in a different local authority. Fortunately, Mrs Chatterton and Mrs Rushton, previously Heads of Schools within the Federation, have agreed to take on the leadership role with enthusiasm in the interim period whilst the schools seek out a suitably experienced Executive Headteacher to carry on all the good work.
Mrs Chatterton will be the Acting Headteacher for Pinvin CE First and Himbleton First Schools. Miss Rushton will be the Acting Headteacher for St. Nicholas CE Middle School.
1.1.18
Welcome to Mrs Abbott - new Headteacher at Crowle CE First School
As many of you may be aware, Crowle CE First School and the DoWMAT family of schools said a very sad goodbye to Miss Biggs at the end of the Autumn term 2017.
However, the school has since appointed a new Headteacher and Mrs Abbott starts her new post this month. We wish her every success in this new role.
1.11.17
Netherton CE Primary School in Dudley joins DoWMAT
We are thrilled that Netherton C of E Primary School is now part of our DoWMAT family. The school is a voluntary controlled (V.C.) primary school and has its origins in the early part of the 19th Century. In 1989 the school was relocated to its present site, after refurbishment of the former Yew Tree Hill First School.
The school is a one and a half form entry primary school, with a Nursery Unit, and is soon to be going to a two form entry with the addition of two new classes.
The school continues to retain a close affinity to St. Andrew's Church, Netherton and with the Dudley Church of England Schools Foundation, which continues to support the school with grants and donations from time to time.
1.9.17

We are pleased to welcome two new members onto our Trust team this September.

Mrs Claire Davies is joining us as our new Chief Executive Officer for the DoWMAT. Mrs Davies will be working with us for two days a week until the end of December, alongside our Interim CEO, Mrs Karen Surrall. From January, Mrs Davies will be joining us full time.
Also joining the team is Mrs Claire Roberts who will be providing business support for all our academies.
3.8.17

Claire Davies has been appointed as the new CEO of the Diocese of Worcester Multi-Academy Trust.

Claire Davies, currently Headteacher at St Matthias CE Primary Academy in Malvern and Executive Headteacher of Elmley Castle CE First School, has been appointed as the new CEO of the Diocese of Worcester Multi-Academy Trust (DoWMAT). The DoWMAT provides a route to becoming an Academy for any school across Worcestershire and Dudley wanting to join a trust with clear Christian values and vision. There are currently eight primary schools in the DoWMAT with a number of others in the pipeline to join.
Claire will take over from Interim CEO, Karen Surrall, who has been responsible for the initial set up of the DoWMAT; turning the diocesan vision into a robust reality. Claire will now look to grow and develop the offer for schools, ensuring that those who are part of the Trust continue to be supported effectively and standards across the schools continue to improve.
Claire said:
"Karen has done an amazing job in establishing the DoWMAT and I'm looking forward to working alongside her for my first few months as I start to build strong professional relationships with each of the schools. From January, I will take on the role full time, co-ordinating the Trust and building capacity within the DoWMAT to enable each of the schools to flourish. I am very excited about working with a group of extremely committed and dedicated headteachers, their staff teams and the local governing bodies of each academy."
Claire brings her experience of working as Headteacher of three very different church schools. She has a background in school development and effectiveness; always looking for ways to improve the schools in which she has worked so that children have the best possible chance to achieve of their best. She has also looked after school budgets; working with Academy Boards to keep schools financially viable and sustainable.
She said:
"This post will be a new challenge for me and I am looking forward to the opportunity to work with schools from a different perspective. The Diocese is committed to creating and sustaining a family of academies working collaboratively to achieve excellent outcomes for children. This is very reassuring for our headteachers who face many challenges in today's educational landscape and I am pleased and excited to be part of such a worthwhile venture."
Claire joins the DoWMAT part time in September, gradually increasing her hours over the first three months. The DoWMAT is still relatively new with the first schools joining last February. Claire will help to develop the structures of the Trust, providing strategic leadership and direction as well as support for the schools involved. She will also work closely with the Diocesan Education Team to ensure that church schools within the Diocese of Worcester continue to be both challenged and supported at a time of significant change within the education landscape.
By Sam Setchell